Our strategy is based on diverse agents of value inside our society:
Small and medium business

Individuals with low and medium incomes

We're financial agents in 4 provinces

We bring the best quality of services with the compromise to generate more and better products for our clients.

We encourage growth and work-based compromise for a better country
Ownership Structure*
*As of September 2018.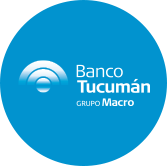 Banco del Tucumán S.A
99,5%
Banco del Tucumán S.A. Is a financial local entity authorized to act as a Commercial bank under Argentinian regulations. They execute their bank operatory majorly in Tucuman province, located in the North-east of our country.
Macro Bank Limited
99,99%
Macro Bank Limited Is an entity dedicated to the bank industry and all classes of financial investments, commercial activities, negotiations and other operations, located in the Bahamas.
---
Macro Securities S.A.
99,92%
Macro Securities S.A. Is an Argentinian business leader in the stock market and the management of actives, that offers consulting and investments administration with a wide range of clients, that includes particular investors to entire corporations.
Macro Fiducia
98,61%
Macro Fiducia S.A. Is an entity that has the objective to make their way as a fiduciary agent of analysis and head of financial consulting, financial services and investments.
---
Macro Fondos S.G.F.C.I. S.A.
99,94%
Is an administrative society of Common funds of investments, that with their work they positioned in between the first participants of the local market launching common funds. In their lines, they have experienced executives in portfolio management.
NOTE: % under social capital- Direct and Indirect participation.
Last update: 3 de Octubre, 2017: 14 de diciembre, 2018