Our strategy is focused on developing value segments and strong pillars:
Small and medium sized companies.

Low and mid income indiviuals.

Financial agent in 4 provinces.

We provide high quality services with the commitment to generate more and better products for our clients.

Operational and commercial efficiency

Growth through profitability

Inorganic growth opportunities

Aggressive growth focus

Market opportunities through geography and segment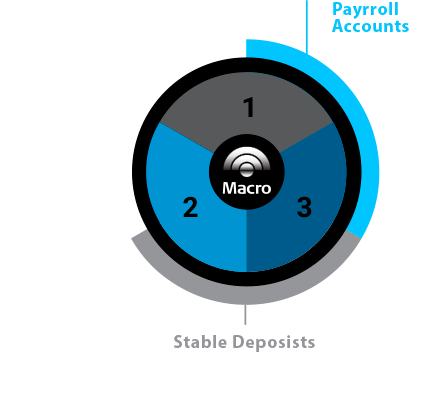 Ownership Structure*
*As of December 2018.
Macro Bank Limited
99,99%
Macro Bank Limited Is an entity dedicated to the bank industry and all classes of financial investments, commercial activities, negotiations and other operations, located in the Bahamas.
Macro Securities S.A.
99,92%
Macro Securities S.A. Is an Argentinian business leader in the stock market and the management of actives, that offers consulting and investments administration with a wide range of clients, that includes particular investors to entire corporations.
---
Macro Fiducia
98,61%
Macro Fiducia S.A. Is an entity that has the objective to make their way as a fiduciary agent of analysis and head of financial consulting, financial services and investments.
Macro Fondos S.G.F.C.I. S.A.
99,94%
Is an administrative society of Common funds of investments, that with their work they positioned in between the first participants of the local market launching common funds. In their lines, they have experienced executives in portfolio management.
---
NOTE: % under social capital- Direct and Indirect participation.
Last update: 3 de Octubre, 2017: 11 de octubre, 2019